This is something I will also one day turn into a video, because I LOVE fruit

(thus I love to talk about this).
I don't know what the prices of fruit are like in your country, every country is different. I come from Ontario Canada and the price of fruit depends on the type of fruit

(duh)
Anyways.
Speaking from a Ontario-villian perspective there are some fruit that is more expensive and more cheaper in Japan. One thing that pisses me off is the constant complaining about how expensive fruit is and how people apparently have to pay 200$ to get a watermelon

(which do exist).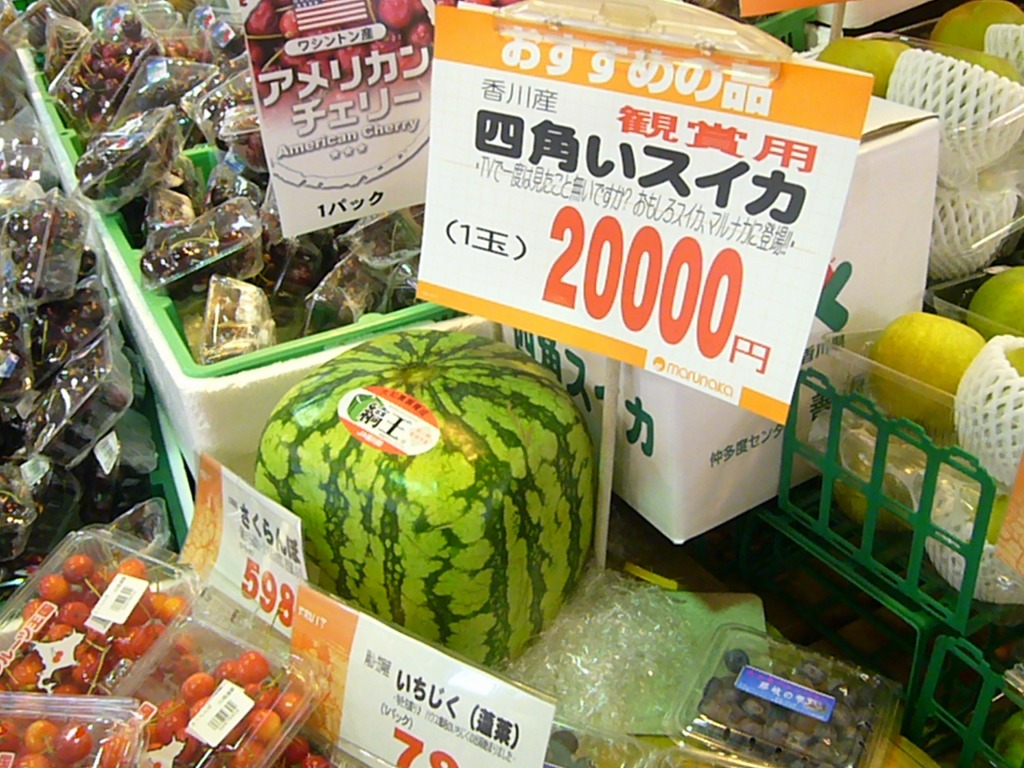 One thing that is important to know about Japan
FRUIT CULTURE!
The number one reason why fruit is expensive in Japan, Fruit is given away as gifts in Japan. There are expensive fruit stores and so called brand name fruit that is sold at higher prices depending on the brand, season, appearance, where it comes from, the farm and occasion. I could walk into a expensive fruit store, pay 50$ for some oranges, and give it to someone as a gift and WONT look like a cheep idiot.
In Canada, if you gave fruit to someone as a gift, it would seem weird

(unless that person is like me and ASKED for it for Christmas XD)
In Japan, giving fruit away as gifts is acceptable,

(however, people don't give away veggies).
In Japan, Fruit is not as casually eaten as fruit in Canada.
For these reasons you CAN find expensive fruit.
But I don't think people pay too much attention to the difference of brands, where it came from when they look at the price and see that peaches are 8$ for 2, get shocked and go write about it on the net.
One thing you can't go wrong with, is TASTE. Japan ranks in the taste of fruit. In Canada, its a guessing game, Fruit aren't usually competing with brands like in Japan, rather grocery stores. In Japan people know which areas have good fruits, and certain fruit brands are well known to be really good tasting. In Canada, its not cared about so much. Sometimes you get a pack of really good peaches, sometimes you don't.
Anyways. Back on topic.
Another thing you have to take into consideration in Japan, some grocery stores will REALLY rip you off. Some grocery stores have INSANE price differences compared to other grocery stores. To mention one 'Livre keisei' is almost double or sometimes triple the normal price of what food should be. If you move to Japan, check out the prices of a few grocery stores, I like to use the prices of the frozen bento snacks and fruit to compare grocery stores. Bento snacks shouldn't be over 200 yen per pack, if you are in Tokyo and its over, you are in a expensive grocery store area and should move right away
Anyways. So grocery stores will vary ALOT. I mean a lot!
Japanese people usually don't buy fruit that is half rotten, looks not nice, not perfect to the shape, has a scratch on it. For this reason it takes a lot of money into making the fruit perfect. Stores wont sell the fruit that is almost expired or doesn't look presentable, thus they lose lots of money in the process of selling.
To help people, I will give you my experience in Tokyo as a DEAL list of how much you should be looking at fruit, anything higher, its either a really yummy special brand, or a expensive grocery store. and you should run
BANANA - 100 yen
PEACH - 300-400 yen (for 2 or more)
STRAWBERRYs - 300 yen
MIKAN - 300 yen (for pack)
NASHI - same as peach
WATERMELON SLICE - 200-350 yen
APPLE - 100-170 yen (per apple)
MANGO - 200-350 yen
GRAPEFRUIT - 100-200 yen
DELAWARE GRAPES - 200-250 yen
(Some stores sell them for 900 yen WTF!)